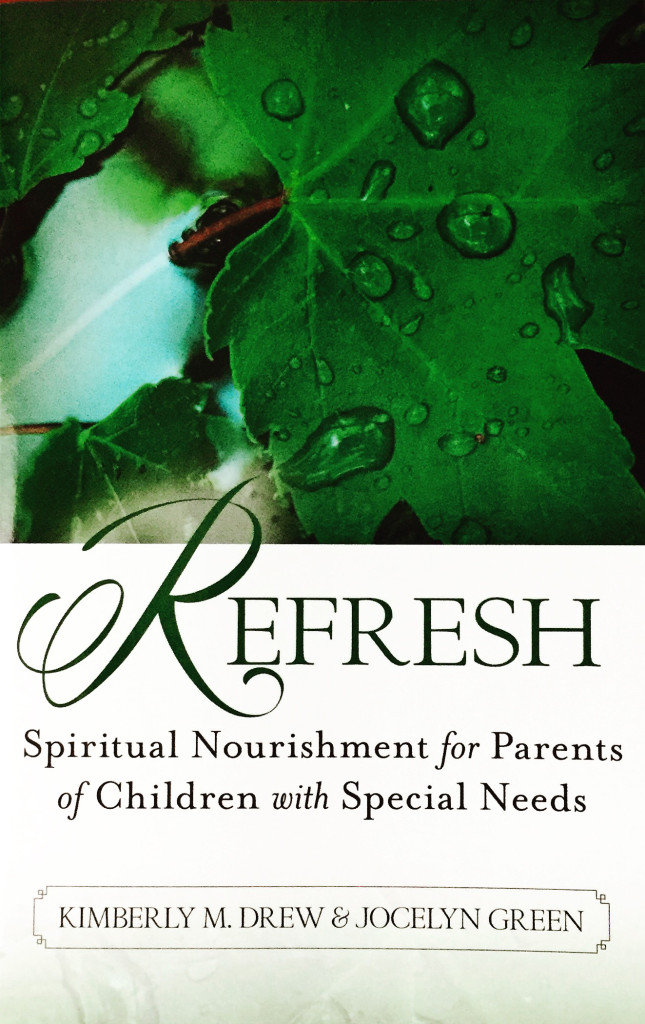 Are you the parent of a special needs child?  Do you have a friend or family member that is new on the journey of raising a child with special needs?  If so, I strongly recommend the book, Refresh: Spiritual Nourishment for Parents of Children with Special Needs by Kimberly M. Drew and Jocelyn Green.
Here's how the book is set up. There are eight chapters, with each title cleverly alluding to the growth process of a tree. Each chapter has about 10 devotions that contain personal, transparent stories from parents of children with special needs.  Each devotional can be read in 10 minutes or less, with a prayer and three questions included at the end to allow the reader a chance to reflect even further. A section called "Knowing Jesus Personally" is included at the end of the book, which gives the reader an opportunity to learn more about Jesus Christ and receive Him as their Lord and Savior.
There were several themes and nuggets of truth that I learned from reading this book, such as:
Grief has no time limit.
Healing can't happen until you are honest with yourself.
The journey of being a special needs parent is more than we can handle…without God.
This book was very helpful to me. I could easily find value in using it as a daily devotional, especially with the prayer and reflection questions at the end. A variety of special needs were featured in this book, from commonly known ones such as autism and cerebral palsy, to less common ones such as Sanfilippo syndrome and Angelman syndrome. No matter what the topic is for the devotional, the path always leads you to encouragement and hope in Jesus Christ.
The authors included a note in the introduction that shares their desired wish for the reader.
"Just as you pour yourselves into your children, we want to pour hope and courage back into you. We want to refresh your spirit by speaking biblical truth directly to the unique aspects of your particular lifestyle."
I believe that these ladies have succeeded in their mission. Order your copy of Refresh: Spiritual Nourishment for Parents of Children with Special Needs today on Amazon, Barnes and Noble and other retail bookstores.
*Disclosure: My family's story is mentioned in two of the devotionals in this book.  Because I was willing to share my personal experience, I received a complimentary copy of the book.  However, that has not influenced my review of this book.