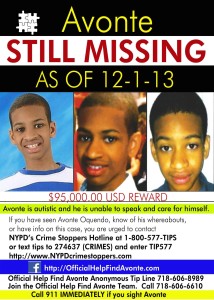 Back in November, I wrote a post about a young boy with autism named Avonte Oquendo.  He wandered away from his school in New York on October 4, 2013 and had not been seen since.  His disappearance caused great concern because Avonte was nonverbal and had the mind of a 7 year old, even though he was 14 years old.
Last week, remains were found in College Point, Queens that had washed up from the East River.  DNA testing was conducted and it was confirmed that the remains match Avonte Oquendo.  His cause of death has yet to be determined.
I'm deeply saddened by this recent turn of events.  I was hoping for an outcome that would bring Avonte home to his family alive and well.  However, that was not the case.
Please pray for Avonte's family and friends, those that volunteered their time to search for him, and for those that have followed this story and became emotionally connected.  It is my hope that Avonte's death will not be in vain.  I pray that something good will come out of this tragic situation and that national awareness will continue to be spread about children with autism that wander and the safety precautions that should be taken.
Rest in Peace Avonte.