My oldest son is becoming a lot more verbal about things that he is observing. Lately, he's been noticing all of the Christmas decorations going up in retail stores and the outdoor decorations at certain homes that we pass on a regular basis.
We hung out for a little while on Friday after I picked him up from school. Christmas decorations were at every place we went.
"It's Christmas,"  my son said with much excitement.
"No baby," I said.  "Today is December 6th.  Christmas is on December 25th.  What's 25 minus 6?"
Crickets….
"25 minus 6 equals 19," I said.  "We have 19 days before Christmas."
"I want Christmas Tree," my son said.  I knew exactly what he was asking for.  He pretty much put me on notice that we had to put our decorations up too!
"Okay.  Maybe we can put it up today if Daddy can help get the decorations down," I said.
As soon as we got home, my son reminded me about how we needed to put up our decorations.
"Christmas Tree! I want Christmas Tree!"
Luckily for him, Dear Hubby was home and willing to dig out all of our decorations at 7:30pm.  I baked cookies and turned on some Christmas music to make things festive.
My son had the best time! He wouldn't eat the cookies, but he loved the music! We have an artificial tree and he did a great job straightening out the branches and putting them into the right slot. I think his favorite part was stringing the lights.  I really enjoyed his help!  Little Baby Brother even got in on the fun and supervised us doing the work from his playpen with his Santa Claus pajamas on.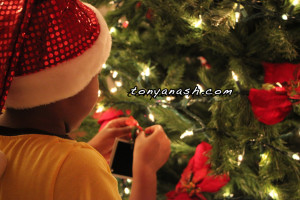 As the evening drew on, it ended up being just me and my oldest son putting the ornaments on the tree.  At 10:30pm, I told him him, "It's time for bed.  It's getting late."
He looked at me and said, "Presents?  I want my Christmas presents!"
I smiled at him really big and tried my best not to laugh. "Son, you don't get presents until Christmas.  It's not Christmas yet.  We have 19 more days."
"Oh man," he said as I snickered to myself.  He thought that once the Christmas tree went up, he would get his presents!  I guess that explains how my little sleepyhead found the energy to sit up until 10:30pm!
I read him a bedtime story and walked out of his room with complete joy. What a wonderful day with my son!  I'm thankful beyond words.
Question:  Have you decorated for Christmas yet?