Hello Everyone!
Christmas is very special for my family this year.  For starters, my husband is home and not deployed!  He has been either deployed or getting ready to deploy for three out of the past four years during Christmas time.  We usually travel for Christmas, but this year we are taking it easy and enjoying the gift of a united family.
Another blessing for our family is that our oldest son is starting to understand Christmas!  I've been explaining things to him as the big day gets closer and he is really excited.  We did several fun Christmas Eve activities.  We sprinkled "reindeer food" out in the yard, baked cookies, and kinda sorta watched the Grinch that Stole Christmas while we made a Christmas House with Santa on the roof.  He picked out this craft while we were out shopping. Here's our completed work: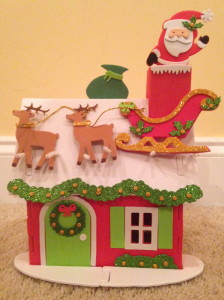 After we exchange gifts, Dear Hubby and I plan on talking to our oldest son about Christmas being Jesus's birthday.  He gets really excited about birthdays and loves to sing, so I'm sure Jesus will get a "Happy Birthday to You" song from him! 🙂
On this Christmas, I pray that all of you will have a day that is filled with love, family, happy memories, and good food.  May the peace of God, good health, love, and prosperity be with you and your family now and in the year to come!
Merry Christmas!
Tonya
"And the angel said unto them, Fear not: for, behold, I bring you good tidings of great joy, which shall be to all people.  For unto you is born this day in the city of David a Saviour, which is Christ the Lord. And this shall be a sign unto you; Ye shall find the babe wrapped in swaddling clothes, lying in a manger. And suddenly there was with the angel a multitude of the heavenly host praising God, and saying, Glory to God in the highest, and on earth peace, good will toward men." –  Luke 2:10-14 KJV