This year, Dear Hubby and I decided to take a week of vacation and travel cross country to spend the Thanksgiving holiday with our extended family. We've flown before, but decided to drive this year.  We spent two days packing and by the time we were all loaded up, our vehicle looked like we were doing a military DITY move!
Our reason for driving was simple: our oldest son has issues with flying in an airplane and it would be easier to control the environment if we drove.  The last place I want my son to have an autistic meltdown is on an airplane. That can cause all kinds of issues.
Driving was the easy way out. Besides, we could take stops as needed.  It would be fun to split the drive up into a couple of days and enjoy some sightseeing, right?  We've done the drive before with Big Brother and it wasn't that bad. Just take a few good movies for the DVD player, bring his favorite snacks along, let him pack his own toys to bring and voila! That's a successful road trip in the making!
However, in all of our calculations, we forgot to add one extra element to the equation…
Little Baby Boy.
We really didn't consider what it would be like to travel for an extended period of time with Little Baby Boy.  The longest road trip we ever took with him was 5 hours and this trip was more than three times that distance according to MapQuest and Google Maps!
Big Brother is a professional car rider.  We broke him in early.  But Little Baby Boy broke us in with some expectation management lessons.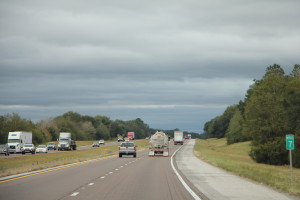 Now let me go ahead and say that Little Baby Boy did great for a one year old, he really did.  But when our 8 hour drive per day turned into a 10+ hour drive per day, it became exhausting for everyone.  Gas/Bathroom/food breaks took anywhere from 30 minutes to an hour.  We always seemed to stop at gas stations without a changing table.  And almost every time we stopped, we had to change Little Baby Boy's entire outfit due to spit up or some other issue. The stops broke up the monotony of the drive, but it sure slowed us down!
About a week out from the trip, we started preparing Big Brother.  We told him that we were going to see Grandpa and Nana and we were going to ride in the car for 8 hours each day for a few days.  He was very excited and reminded me every day of our upcoming trip. But even professional car riders have a limit.
On Day 2 of driving, hour number 8, Big Brother yelled out, "Grandpa and Nana!!!!"
I turned around, looked at him and said, "We have 2 more hours.  Then Grandpa and Nana."
Big Brother looked at me, thought about it for a few seconds and said, "No more hours!!!!"
Dear Hubby and I busted out laughing!  That was Big Brother's way of saying, "Are we there yet? Cause this is getting old!"  Bless his heart, even he had reached his car riding limit for the day!  I loved that he was able to use his words to express his feelings at that moment!  Thank God for speech therapy!
Despite heavy traffic in a few places, we arrived safely to Grandpa and Nana's that evening.  Seeing the joy on their faces and on the faces of our children made up for the excessively long ride.  Our boys felt the love of their grandparents, aunts, and uncles towards them and freely gave their love, time, and attention back in return.
Now that's something to be thankful for.
Question:
Did you do a Thanksgiving holiday road trip?  How did it turn out?