When we send our children off to school, we expect that they will be safe and return to us at the end of the day.  We never expect for them to go missing without a trace!  Unfortunately, that nightmare became a reality for Vanessa Fontaine and Daniel Oquendo.
On October 4, 2013, Avonte Oquendo wandered away from his school in Long Island City, Queens, New York.  According to his mother, Avonte was supposed to have 1:1 supervision at all times due to his Autism.  Avonte is nonverbal and even though he is 14 years old, he has the mind of a 7 or 8 year old. It has been reported that a school staff member saw him leave out of the building but did not stop him.  The school did not call the police until 45 minutes after Avonte went missing.  His mother wasn't called until an hour later.  A lawsuit has been filed against the school system.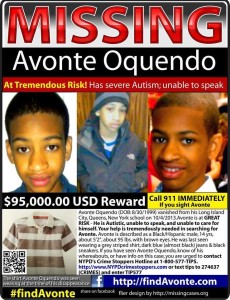 Many people have  joined in the search for Avonte, with search teams going out daily to look for him. The reward for his return is currently at $95,000.  A few celebrities have pitched in with the search effort and a pilot volunteered to fly a banner over Manhattan and Queens with information about Avonte's disappearance on it. Several prayer vigils have been held.
But Avonte is still missing.
Today marks 40 days since Avonte wandered out of a place in which he was supposed to be safe.  This really hits close to home for me, as my oldest son has autism.  When I first heard about Avonte, I felt helpless because I couldn't participate in  the ground search. But I soon realized that help isn't limited to a ground search alone.
Here's how you can help, no matter your location…
Say a prayer for Avonte.  Pray for him without ceasing until he is found.
Pray for Avonte's family and friends.  I'm sure they are experiencing a roller coaster of emotions right now.
Help spread the word. Tell your friends and family about Avonte.  Share the story on social media. Click here for a list of news stories from CBS New York about Avonte.
If you have any information about the disappearance of Avonte Oquendo, please call 1-800-577-TIPS.  I'm praying and believing for a happy ending to this story!