My son's school had a Veterans Day Assembly on last friday.  It was a very nice tribute to veterans from every branch of service. The program included several singing selections by students from different grade levels and two teachers sang beautiful solos.
Our son was very excited to see his father, baby brother, and me at the assembly.  When it came time for him to sing with his class, he put his hands over his ears, but he did a good job of standing still.  I'm sure he had a little bit of sensory overload during that time.  But that's okay.  He did a great job working through it and I was proud to see him being an active part of his mainstream class.
The featured speaker was a teacher that served 2o years in the Army.  He gave a wonderful presentation about the importance of honoring veterans in a way that young children could understand and adults could appreciate.
After the assembly, several families gathered together in front of the below banner with their veterans to take pictures.  It was a nice conclusion to a great program.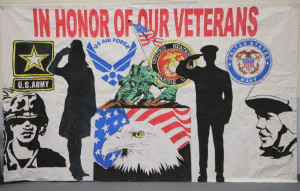 Several of my  family members are veterans and I've heard some pretty interesting stories from their experiences. Stories that made me laugh…stories that made me sad.  Stories that filled me with amazement of the sacrifices they had to make and stories of how proud they were to get the chance to serve our great country.
Veterans have made a difference all over the world and have sacrificed a lot. They are a part of the small minority that is willing to put their lives on the line to protect our liberties.
There's so much more that I can say about veterans, but I'm just going to sum up my thoughts in five words: Thank You For Your Service!
Be sure to do something nice for a veteran on today!