Dear Hubby's squadron requested cookie bakers for an upcoming fundraiser. I'm not big into baking, but I remembered that I had a recipe for Texas Mansion Cookies.
A lady I used to work with would make Texas Mansion Cookies whenever our classes completed the tobacco cessation program. She gave the recipe to me, but I never got around to baking the cookies.
Four years after receiving the recipe, I decided to try it out. If they came out good, I would make them for the squadron fundraiser.
Here's the finished product: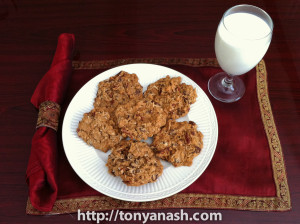 The cookies were delicious! Dear Hubby took a sample to work to see what others thought and the cookies were a hit! I committed to making them for the fundraiser and I'm hoping I won't regret it later! 🙂
The recipe is below:
Texas Mansion Cookies
Ingredients:
3 cups all-purpose flour
1 tablespoon baking powder
1 tablespoon baking soda
1 tablespoon ground cinnamon
1 teaspoon salt
1 1/2 cups (3 sticks) butter, at room temperature
1 1/2 cups granulated sugar
1 1/2 cups packed light-brown sugar
3 eggs
1 tablespoon vanilla
3 cups semisweet chocolate chips
3 cups old-fashioned rolled oats
2 cups sweetened flake coconut
2 cups chopped pecans (8 ounces)
Directions
Prep Time: 25 minutes
Bake time 17 to 20 minutes
Yield: About 3 dozen cookies (see note below)
Heat oven to 350 degrees.
Mix flour, baking soda, baking powder, cinnamon and salt in bowl.
In 8-quart bowl, beat butter on medium speed until smooth and creamy, 1 minute. Gradually beat in sugars; beat to combine, 2 minutes.
Add eggs, one at a time, beating after each. Beat in vanilla.
Stir in flour mixture until just combined. Add chocolate chips, oats, coconut, and pecans.
For each cookie, drop 1/4 cup dough onto ungreased baking sheets, spacing 3 inches apart.
Bake in 350 degree oven for 17 to 29 minutes, until edges are lightly browned; rotate sheets halfway through. Remove cookies from rack to cool.
Note: For 6 dozen small cookies, use 2 tablespoons dough for each. Bake at 350 degrees for 15 to 18 minutes.
Copyright, 2000, Laura Bush

Tonya's sidenote: This recipe makes A LOT of cookies. I could have easily made 4 dozen large cookies. Because I had so many cookies, I let them bake for about 24 minutes. And yes, this is former First Lady Laura Bush's recipe!